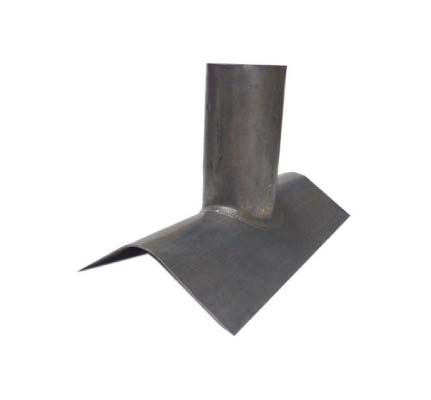 Ultraray Metals offers a great selection of Lead Flashings for Commercial & Residential Roofing Applications



Multi-Pitch Lead Roof Flashings

Ultraray's Multi-Pitch Lead Roof Flashings are made from the highest quality and longest life materials; ideal for all types of roofing applications. Available in 2.5# and 4# weights and 1-1/2", 2", 3",4", 5" and 6" pipe diameters. Flexible up to approximately 14 degrees.

Custom Lead Flashing

Lead Flashings are made from the same high quality material as our standard multi-pitch flashings. They are specifically made to your architectural specifications and to meet federal, state, city and country flashing code requirements. These flashings can be manufactured as adjustable or made fixed to fit any roof up to 17/12 pitch. To order Custom Lead Flashings, specify diameter of pipe, thickness of lead, size of flange or base, height of boot & pitch of roof.

Tile Lead Flashings

Ultraray's Tile Lead Flashing is specifically designed for the tile roof. The base size is larger so it can easily fit over tile.

Polymer Coated Flashings

MayCoat™ Polymer Coated Flashings have the most durable, longest lasting coating available. The unique chemical properties of the MayCoat™ polymer-based compound provide unsurpassed UV corrosion protection when exposed to sunlight and other UV producing environments. This means an extra layer of protection for long-term exposed installations. Available in gray and black.
| ROOF PITCH ANGLE | | ROOF PITCH DEGREE |
| --- | --- | --- |
| 1/12 | = | 4 1/2 |
| 2/12 | = | 9 1/2 |
| 3/12 | = | 14 |
| 4/12 | = | 18 1/2 |
| 5/12 | = | 22 1/2 |
| 6/12 | = | 26 1/2 |
| 7/12 | = | 30 1/4 |
| 8/12 | = | 33 1/2 |
| 9/12 | = | 36 1/2 |
| 10/12 | = | 39 1/2 |
| 11/12 | = | 42 1\2 |
| 12/12 | = | 45 |
| 13/12 | = | 47 |
| 14/12 | = | 49 |
| 15/12 | = | 51 |
| 16/12 | = | 53 |
| 17/12 | = | 54 1/2 |
| 18/12 | = | 56 |
| 12/17 | = | 35 1/4 |